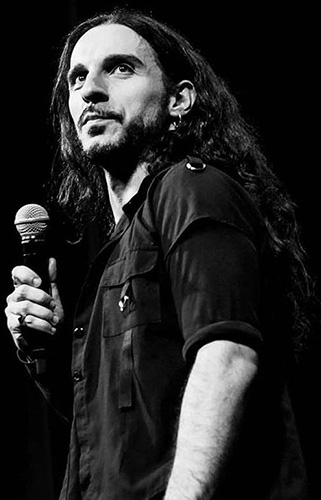 Dédo discovers the world of Stand-Up Comedy in high school, when an American friend gives him a video-tape of Richard Pryor. He falls in love with art instantly, at a time when it's still not well known in France. Dédo attends theater school during his free time and auditions for a few roles – which he gets in the early 2000s. He soon meets Kader Aoun, who is developing a new stand up company : the Jamel Comedy Club. Dedo sends Aoun a 4 minute-long teaser where he displays his improvisation skills, and is hired immediately. Among the Jamel Comedy Club, Dedo gets familiar with the stage between 2006 and 2011, gets to host the radio show « Le Comedy Club Live » on Le Mouv' for a year, and appears in the TV series Inside Jamel Comedy Club on Canal+. Meanwhile, he invades the web with short programs such as Vu Par Un Con and L'Histoire racontée par des chaussettes, co-written and co-directed with his partner in crime Yacine Belhousse. The Web-series is a huge success: watched by millions, it earns the Best Web Fiction Award at the Festival de la Rochelle in 2010, as well as the « Meilleur Télécourt » Award at the Festival de Luchon.
Dedo appears in several TV series (Nous ne sommes pas des Saints, on the cable channel Comedie ; Bref on Canal+) and writes two stand-up shows, « Prince des ténèbres » and « Killing Joke, Part 1 », which he performs hundreds of times. Dédo is also a member of « Les Princesses Léya », a comedy band that specializes in heavy metal parodies. He is currently writing his third one-man-show and developing screenplays for feature films.
Dédo découvre le stand-up à l'époque du lycée, lorsqu'un ami américain lui amène des Etats-Unis une cassette-vidéo de Richard Pryor. Il voue dès lors une véritable passion pour cet art encore peu connu en France.
Dédo prend alors des cours de théâtre classique sur son temps libre et passe ses premières auditions. Après quelques rôles au théâtre, Dédo croise la route de Kader Aoun en pleine préparation du Jamel Comedy Club. Il lui fait part de son rêve de faire du stand-up et lui envoie un teaser de 4 minutes d'impro. Kader le recontacte immédiatement et lui propose de participer à l'aventure qui l'amènera à se produire sur scène de 2006 à 2011, animer pendant un an l'émission Le Comedy Club Live sur Le Mouv', et participer à la série Inside Jamel Comedy Club sur Canal +. En parallèle, Dedo impose sur le net son humour qui sort des sentiers battus avec des programme-courts comme, Vu Par Un Con:critiques cinéma ou voyages à travers le monde (Japon, Etats Unis, etc), L'histoire racontée par des chaussettes, co-écrit
avec son complice Yacine Belhousse. Un carton immédiat sur le web avec plusieurs millions de vues, doublé d'un succès critique avec le prix 2010 de la Meilleure Fiction Web au Festival de la Fiction de La Rochelle et le Prix du Meilleur Télécourts au Festival de Luchon.
Dédo apparaît dans plusieurs séries à succès (Nous ne sommes pas des Saints sur Comédie ; Bref sur Canal +) et écrit deux one-man-shows, qu'il joue des centaines de fois. Dédo est également l'un des membres des Princesses Léya, un groupe de heavy métal humoristique. Il rédige actuellement son troisième spectacle de Stand-up et développe plusieurs scénarii de longs-métrages.
Selected Filmography
2019                      Phil Tippett : Mad Dreams and Monsters (documentary – associate producer)
2008 – 2019        L'Histoire racontée par des chaussettes (Web-series – co-author, co-director, voice, puppet operator)
2008 – 2017        Le Cinéma vu par Dédo (Web-series – author, actor)
2017                      L'Epopée temporelle (voice)
2017                      Le Trône des Frogz (TV series – actor)
2015                      Dédo : Prince des ténèbres (Stand-Up DVD – author, performer)
2015                      Reboot (TV series – actor)
2015                      Les Dissociés (movie – actor)
2012 – 2014        Golden Moustache (shorts – actor)
2011                      Bref (TV series – actor)
2006 – 2011        Jamel Comedy Club (Stand Up TV Show – actor, author)
2009                      Inside Jamel Comedy Club (TV series – actor)
2009                      Nous ne sommes pas des saints (TV series – actor)
2008                      Beverly Hills Chihuahua / Les Chihuahua de  Beverly Hills (movie – voice)
2008 – 2009        The Incredible Horror Show (TV Show – himself)